---
Finally an accessible, equitable, and inclusive mental health and wellness benefit with proven results for employers and employees alike.
Give your organization the benefits from unlimited access to a variety of proven practices to reduce anxiety, stress, joint and spine injuries, and promote all around wellbeing. Practices like yoga, tai-chi, meditation and more make a real, lasting difference - especially when students can see themselves in their teachers. We de-stigmatize wellness practices and create opportunity for all to unlock the best version of themselves.
Our mission is to remove geographic, inclusivity, and economic barriers to proven practices so every single person feels welcomed and represented. We achieve this through purposeful teacher recruitment, partnerships with amazing organizations, and an array of mindful movement for any body.
What makes us different?
Best in class engagement and utilization rates.

Ability to build programming to target specific corporate goals.

A diverse and highly credentialed teaching team who are trained to instruct in live, two-way virtual group classes.

Pricing that makes it possible to deploy to a small team or an entire organization.
---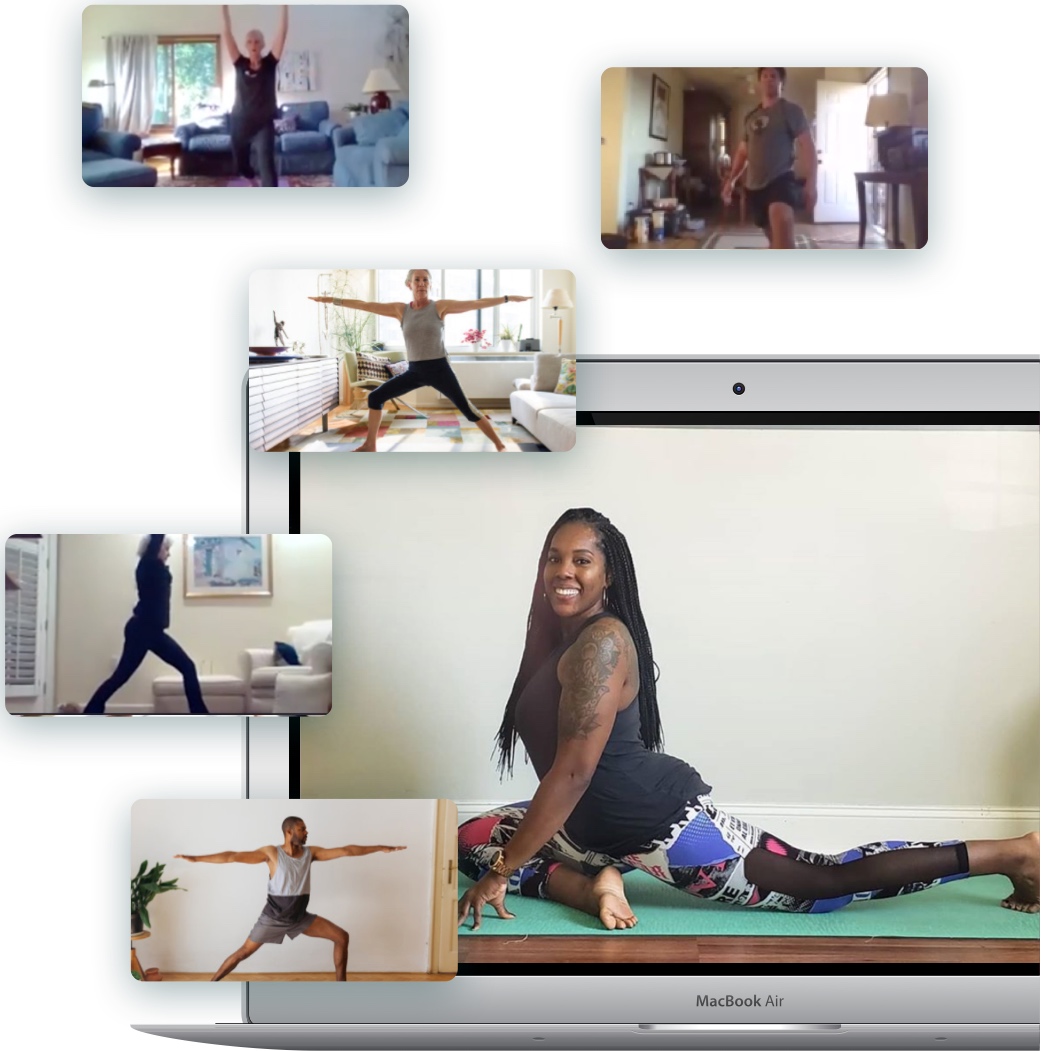 ---
Does Ompractice Work for Employees?
We surveyed the students who come to us through their employers about their experience.
---
feel less stressed/anxious
Have Improved view of their employer
plan to take more classes
---
Freqently Asked Questions
---
---
"I must say this is one of the BEST benefits from [Company]! I have really enjoyed the opportunity to have this wellness feature for us employees.

I was so surprised to receive a membership without cost. This is a great benefit for me, especially during Covid restrictions. I had stopped going to the gym some months before getting Ompractice and it was a God-send.

Oh my God I was so happy when I found you. I'm so grateful to you and [Company]!

This is the most meaningful yoga I've ever taken. Thank you!

I have taken a couple of classes during my lunch break and have found it helps me to get through the day with more energy and more patience.
Transformative, inspiring, day changing, life changing

. This was my first class with Reggie. He's an incredible yoga teacher and I feel lucky to have been virtually in his presence for an hour.

I just want to say "thank you" again for offering this amazing way to promote this level of wellness as it has helped me tremendously. The instructors are very dedicated to classes and very enthusiastic every time.I hope this will be a permanent benefit."
I am grateful for the opportunity that was given to us. What a difference these classes have made in my life in this time of uncertainty.
[Re: Niki's class] This class is amazing.  I guess I've always had tight neck and shoulder muscles.  Nikki knows how to guide the class through a variety of moves that target right where needed.  Thank you Nikki for another great class--the fastest 30 minutes of my week!
I didn't feel shamed...thanks for that (I can't tell you how much!)  Thank you. This is a huge benefit given to us from [company]!
Great for beginners like me. Chanel was patient, informative, and fun!
"This (Ompractice)  has been a great support during COVID, when my gym and other social activities aren't available . I still feel like I am part of a community and can keep a routine.

The yoga along with more physical exercise has given me another vent and tool to deal with my pain management. I also seem more relaxed on days I take meditation with Ompractice.

"Working in healthcare under normal circumstances is stressful, but in the time of COVID it has been completely overwhelming, especially when coupled with providing childcare, homeschooling, and worrying about family and friends. I used to come home and reach for a glass of wine to destress, and now, thanks to Ompractice, I am reaching for my yoga mat instead."
"I've never done yoga before and I wasn't really sure what to expect. I took the Yoga for good sleep class, and I have to say, it was the best night's sleep I've had in a long time."
"This is a great way to try things I maybe wouldn't have been comfortable trying at a studio. "
"The best thing about Ompractice for me is that it eliminates all of my built in excuses like, "I don't want to wake up early, I don't want to drive to the gym" I can literally sign up for a class and take it in my living room. It helps me stick to my practice.
Meet Some of Our Partners:

We know you are super busy. That's why Ompractice has over a dozen teachers offering daily classes.

Roll out your mat and position your laptop or phone 7-8ft away from you.

Log into your digital classroom with one click and get real time feedback while you practice.