LIVE GROUP YOGA Classes
All Levels Welcome
Enter your
U.S

. timezone (ex. America/Eastern)
Give the gift of practice! An OmPractice credit is a great gift for beginners and seasoned practitioners alike!
Order Here.
Click on the class for a description and to reserve your spot.
Live, Interactive YogaYou Can take From Anywhere
---
---
Class at the Right Time
Practice (or teach!) at a time that works for YOU.
Save Time Everytime
We know you are super busy. That's why we are saving you the hassle of acommute and making more time for you to enjoy the things you love.
Let's Go!
---
Video Classrooms
Group classes are made possible through two way video.
Teachers that Teach
Instead of teachers who practice and make you imitate them, our teachers SEE you and teach to YOU!
Quick Setup FAQ
---
Practice with Others
Practice with people from all over the world.
Stay in Your Practice
When you know the teacher and the rest of the class sees you, you are less likely to bail out and get distracted 🙂
What People Say
It's All AboutYour Practice
---
OmPractice was founded on the belief that high-quality live yoga instruction should be available to anyone anywhere at anytime.
These classes are LIVE, where teachers see all of their students, and all of the students can see each other. Our aim is to make life easier for teachers and students, where time isn't lost to commutes, and the practice is affordable.
---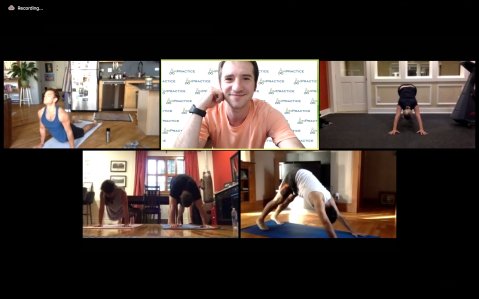 OmPractice is two-way live online yoga. That means the teacher can see the students, and the students can see each other. This creates a safer and more effective class than just following along blindly to a video or podcast.
What You Need: A computer with a webcam, or a mobile device that you can keep charged throughout class. A yoga mat, and something that can function as a strap (like a towel), and a yoga block (like a book). Try and place the camera about 7-8 ft from your mat and have it view you from the side or a 45 degree angle.
To log on to your class: simply click the link in the receipt that was sent to you upon purchase. You may be prompted to download the Zoom.us software or install the app on a mobile device. It is a 1 time, 1 click 20 second download that you never need to do again, and it won't ask you to create an account.
Once you log on, you will be viewable from the start, along with your name, and your mic may be muted. If you have a question just raise your hand and your teacher can unmute you. It's totally fine to ask a question before class begins, but your mic will likely be muted during class just in case something loud (barking dog, crying baby) comes through.
How itWorks
---
JOIN NOW!
---
---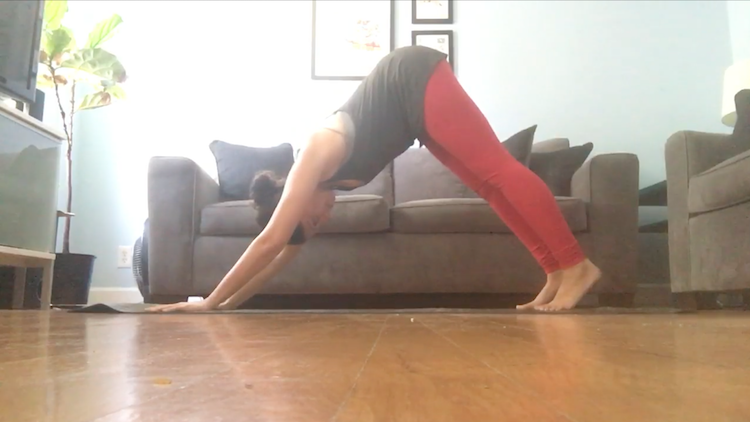 ---
Camera Placement: Lean your phone or your place computer against a wall about 7-8ft away from your mat.
Our StudentsLove Our Classes
---
---
"I'm picky, so having constant access to teachers I trust instead of whoever is at the studio that day is big for me"EK - Chicago, IL, USA
---
I've saved countless hours and dollars in commuting time alone, all while taking classes from teachers I admire!KL - Boston, MA USA