Frequently Asked Questions
---
Getting Started With Ompractice
---
We have over 100 classes a week of yoga, meditation, strength, pilates, barre, tai chi and more on our schedule - there's something for everyone!
Most people are surprised by how much our live virtual classes feel like being in a studio. Because we use two-way video, your teacher sees you during your whole practice, helping you practice safely and develop good habits.
If you're an experienced student, you can follow along with the audio instruction without having to look at the screen. If you're a beginner, you can glance at the screen as needed.
Ompractice is great for beginners! All our teachers are trained and skilled at teaching students at all levels, and we have special beginner classes available, too. It's always a good idea to tell your teacher you're a beginner so they can offer modified postures when appropriate.
The key is to take it slow at first, listen to your body, and let go of any comparisons with more advanced students. Your practice is just for you and our teachers will meet you where you are. Click here for some great recommendations for your first classes.
🎥 Yes! We require all students to have their camera ON for the duration of class. This is for a few reasons: for your safety, for the teacher to be able to teach clearly, and for the integrity of the class. This also ensures that our classes are a safe environment for all students.
Please note, you will be required to have your camera on, and if you are not able to do so, the teacher will REMOVE you from class.
Our classes usually range from about 10 - 30 people. But they can be anywhere 50 to 75 at some of the more popular times. The thing we love is that our classes don't have the constraints of a physical studio, but we are committed to ensuring the class is neither too big for the student or teacher.  (We've had classes with 50 signups and no issues, but we are paying close attention. Your teacher will still be able to see you and support you; that's the most important thing.)
Our monthly membership is only $24.99 per month for an unlimited number of classes, including everything available on our public schedule. An annual plan is $179. (You may be able to submit to your health insurer for fitness reimbursement.)
If you are receiving Ompractice as a free benefit from the Department of Veterans Affairs, or directly from your health insurer or employer, please sign up with the customized url for your organization. (If you don't know it, feel free to reach out to us on chat, and we'll direct you to the right place!) 
Absolutely! Please be sure to let your teacher know either in the signup process or before class (or both). If you are new to yoga, are pregnant, or have a chronic illness or injury, check with your healthcare provider before you begin. However, people with high blood pressure, glaucoma, or sciatica, and people who are pregnant might need to modify or avoid some yoga poses, and your teacher can assist you with this if you let them know.
Pregnancy Contraindications
Note if you are pregnant: Please consult with your physician before performing physical activity. In general, most of our classes are accessible for pregnant women and modifications can be made throughout your practice at each phase of pregnancy. Contraindications to be aware of are inversions, twists, lying on your belly, and holding or restricting your breath. We recommend that you notify your teacher that you are pregnant so that they can support you during your class and listen to your body to take your practice at your own pace.
Classes to avoid during pregnancy: Breathwork with Eric Brown & Intermediate Power Yoga with Yvette Jain.
---
MEMBERSHIP
---
Check out our membership page here. Simply add your preferred membership option to your cart and purchase. After that, any and all class purchases will be free! Sign up for as many classes as you'd like, as often as you'd like.
If you are receiving Ompractice as a free benefit from the Department of Veterans Affairs, or directly from your health insurer or employer, please sign up with the customized url for your organization.
We're sorry to see you go but we understand that life happens. To cancel your membership, simply click here. View your subscriptions and click cancel. 
Once you cancel you are given the remainder of the month to sign up and access classes. Note we do *not* automatically reimburse you if you've already been charged. After that, you'll still be able to log in to your account and access drop-in classes. Remember, you can always sign up again when the time is right.
If you get your membership for free from your employer or insurer, please reach out to us in chat to cancel. (Note, there's no official need to do so.)
Go to

t

o your account
to
to check your membership status, renew, and more. You can see your account in the top right of your profile under your name. (If you need to switch credit cards, just drop us a note in chat, and we'll send you the direct link to the place to do it.)
That's great! Simply go to the page we made specifically for your health insurer, and sign up for your membership through that page. That's it! You're all set and can enjoy classes like any other member. (If you don't have it handy, feel free to ask us for the link in the chat.) 
Many plans will reimburse some or all of the cost of Ompractice under their fitness or wellness benefits. To find out if you qualify to get Ompractice reimbursed, follow the reimbursement instructions provided by your insurer.
---
Filter by Class Types on the Schedule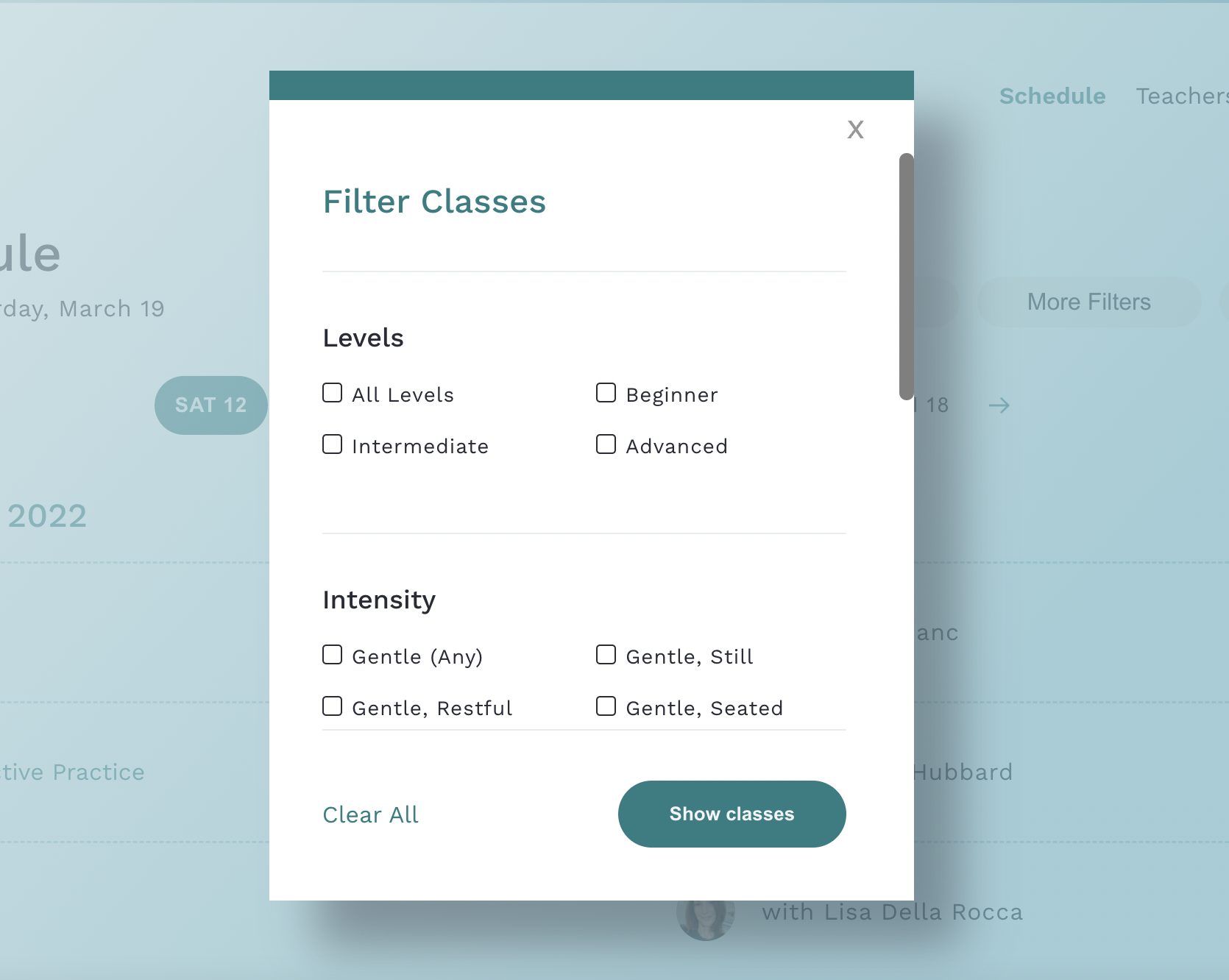 BOOKING A CLASS
---
Jumping in: If you are a beginner, we recommend that you take a beginner class - labeled as beginner, or intro to yoga - to ease yourself in. You can also jump into any meditation class. Our tai chi and qigong classes, as well as Living Your Dharma are also suitable for complete beginners! Yoga for Tight Shoulders and Neck is 25 minutes long, seated, and also a great first entry point! (You can also filter the schedule for beginner classes specifically.)
Finding the right vibe for you: We work with highly skilled teachers, but it often takes trying some classes to find a teacher who seems like the best fit for you. Experiment and have fun!
If you need specific guidance, send us a message at support@ompractice.com with your goals for yoga or meditation and we'll offer some suggestions.
Just look through the schedule and find a class you want to take. Click "sign up" to enroll, and your class link will show up in your dashboard. (You will also receive an email with a unique link to the class in Zoom, the video platform we use for our classes.)
(Don't have a membership yet? Check out our membership page here. Simply add your preferred membership option to your cart and purchase. After that, any and all class purchases will be free! Sign up for as many classes as you'd like, as often as you'd like.)
You're welcome to book a class up to four weeks in advance, but most people simply register right before class, or the week of.
Just go to your dashboard to see your upcoming classes. You can also now add classes that you've signed up for directly to your calendar to keep track!
---
TAKING A CLASS
---
Five minutes or so before class, roll out your yoga mat and click the join link (either on your dashboard, or in your email receipt). If this is your first class on the platform, you'll be prompted to download Zoom (but no need to create an account on Zoom.)
Set up your laptop or mobile phone so the camera shows all or most of your yoga mat. If this is your first class, your teacher can help you move your mat so that they can best see you! Please note: we require your camera to be on for the duration of class. That way the teacher can see you and offer individualized support, and ensure a safe environment for all. 
A yoga mat, maybe a water bottle, and your laptop or mobile phone camera, plus a wifi connection (or cell service if you're using your phone).
We strongly recommend using a yoga mat for comfort and injury prevention. If you don't have one, we like this one but there are many good mats available. 
Don't have a mat or props? No problem! Our teachers are wizards at finding props in your home: blankets, pillows, and books are all great options.
For one-offs, it's okay. Please make a note of the participant in your class registration note. We do ask that if you have multiple people for regular practice they sign up for membership so that we have waivers for everyone and can fairly pay our teachers! (Then you both would register for class but can share a camera!)
If you have someone else in the household they can sign up for the friends and family addition.
If you have an Apple TV, one way to do it is to select "mirror my screen" and it will work super easily. Or plug your computer into your TV via an HDMI cable. Please note, you'll still need your camera facing you so that your teacher can see you. (You can also sign in to a second device, such as your phone on mute and have the camera facing you.)
Yes. To take classes through your phone, download the Zoom app and proceed by purchasing through the mobile site. Please note this works best on WIFI or with a strong 4G/LTE connection, and does use data.
Just as in a yoga studio, arriving late can be disruptive to the teacher and students. Please try to arrive 5 minutes before class. But life happens. If you're up to 5 minutes late, just log on and join the class as quietly as you can.
We get it, sometimes life happens. You are under no obligation to cancel out of your class, but if you'd like the teacher to know, find your upcoming classes here, click into the class detail page, and click the link that says "Cancel This Class."
---
Review Your Experience
You'll be prompted to reflect on your class experience after class in the portal. In the future, we'll help make recommendations based on your likes and dislikes!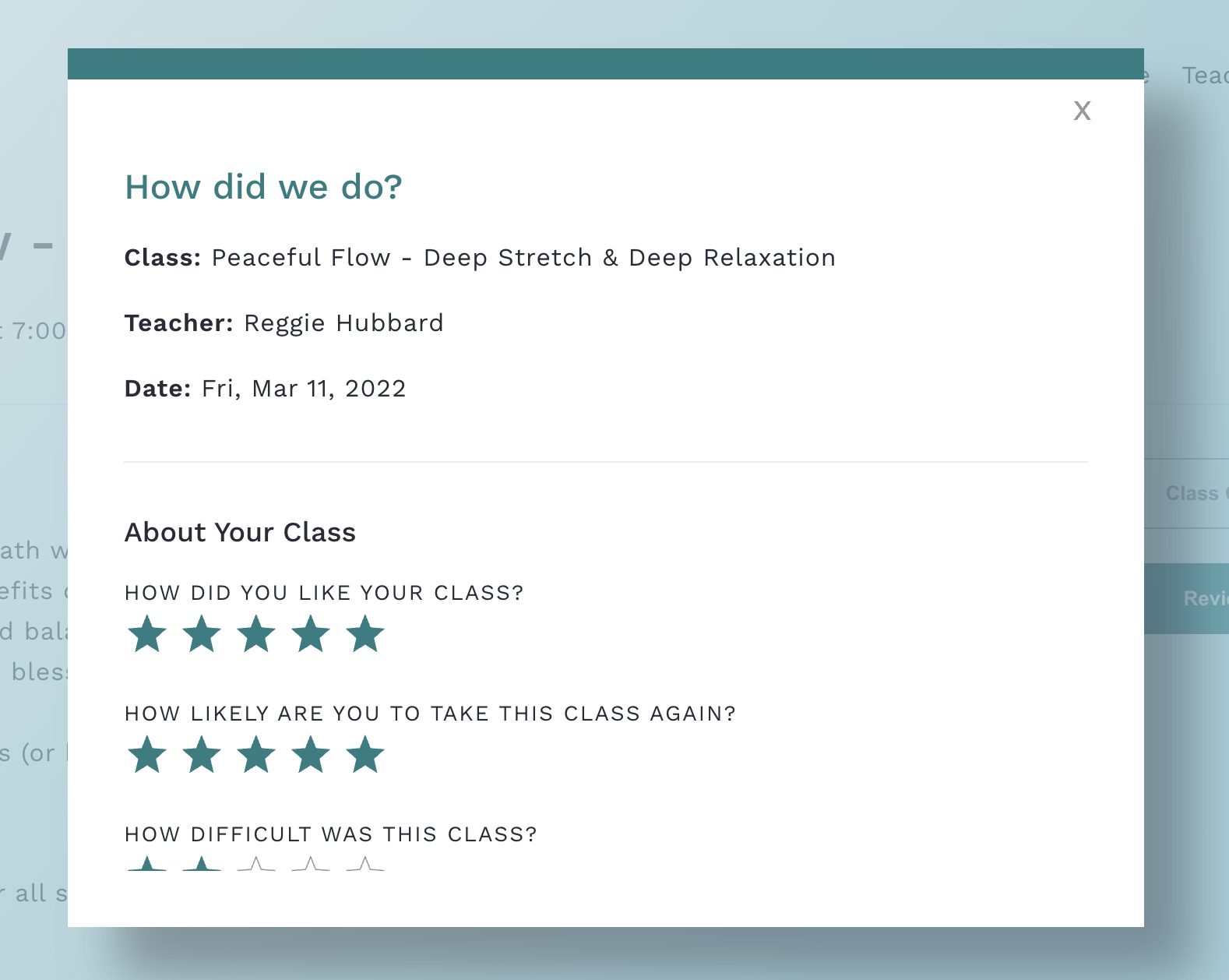 Troubleshooting
---
It's unlikely, but if you get disconnected, just click the class link and try again. If you still have trouble, contact customer support at support@ompractice.com.
---
To reset your password, simply go here. (You can do a password reset right on the login page of Ompractice.) 
---
Meditation
---
Presently, most of our meditation classes are similar to Vipassana, with meditators focusing on their breath. We also offer iRest meditation (focused on a body scan technique), and sound bowl classes.
That depends on the day! Sometimes 25 minutes can seem long, and other times it seems to fly by. We find it helps to let go of expectations and simply experience the class without judgment or concern.
The number one thing is to simply practice consistently, without judging the experience or doubting yourself. The mind wants to escape with thoughts like "I'm not good at this." So focus on just being with the experience and congratulate yourself for showing up. Consistent practice will yield results. It's been said that there are no bad meditations, except the ones you don't do.
---
Benefits of yoga and meditation
---
So many! Yoga has been shown in research studies to improve balance, reduce stress, build strength, increase flexibility, improve sleep, reduced back pain, lowered inflammation, and much more. For many people, it's life-changing. The key is consistent practice: the more yoga, the more you benefit.
Like yoga, meditation offers a whole range of benefits, including reduced stress and anxiety, greater self-awareness, lower blood pressure, increased focus and creativity, reduced depression, greater self-esteem and self-acceptance, and much more.
Yoga is generally safe. However, people with high blood pressure, glaucoma, or sciatica, and women who are pregnant should modify or avoid some yoga poses. If you are new to yoga and have a chronic illness or injury, check with your doctor before you begin.
---
Partnering with Ompractice
---
Yes! Yoga and meditation are great for teams, but not always convenient to provide at the office. We love working with companies to improve the mental and physical well-being of their employees. To learn more, contact partner@ompractice.com.
Want to give us some feedback? Ask a question you don't see an answer to here?
Feel free to shoot us a note at 💌 info@ompractice.com or ask a question or give us shout in the chat on the bottom right of the page.
(Also! One of the best parts of the new site: we'll be able to add more features and incorporate your feedback so much more easily in the future! We're so excited about what this new platform makes possible for us all! Thank you for being a part of this community.)
---