---
Founded in December 2017, Ompractice brings the benefits of yoga and mindfulness to people who can't easily get to a studio or who would prefer to take their practice home or on the road.

To date, Ompractice has served yoga and meditation students across 42 states and nearly a dozen countries around the world. The company is grounded in our belief that students deserve to be seen and supported in their practice, no matter where they are.
"We believe that the benefits of yoga and mindfulness are far too important to be seen as something only available to people who look a certain way or for those who have extra time and money. Our goal is to bring these practices to anyone who wants them, wherever they are, so they can live calmer, better lives."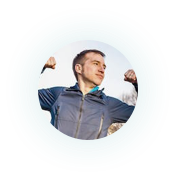 CEO & Co-Founder, Ompractice
Ompractice was founded by a team who's careers have been focused on bring more wellness and happiness into the world.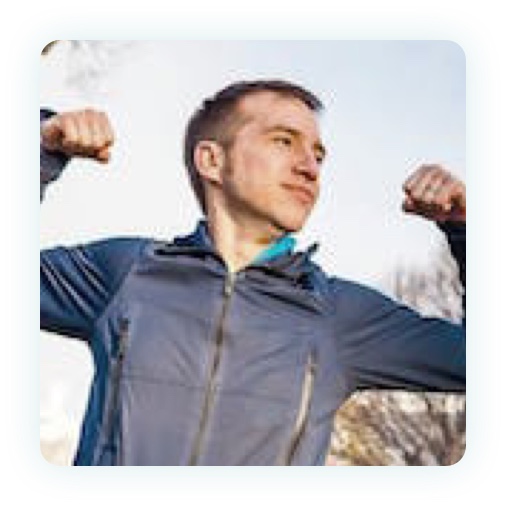 Chris Lucas, Co-founder + CEO
Chris is a co-founder and CEO of Ompractice. He is the former digital director for Baptiste Yoga and has been a certified yoga teacher since 2012.  Chris taught yoga at the White House Easter Egg Roll for six years during the Obama Administration, and was a board member of Yoga Reaches Out (prior to its acquistion by Boston Children's Hospital), a charity that raised over $1,000,000 for organizations focused on helping children and their families. He has been a digital consultant to numerous professional athletes, sports teams, consumer and fitness brands. He lives in Northampton, Mass. with his wife, daughter, and dog Huey.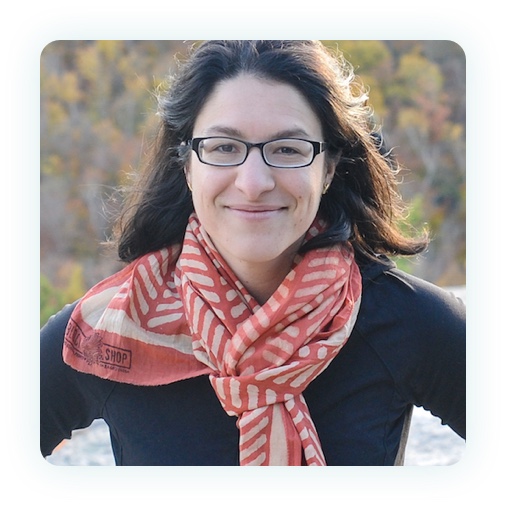 Sam Tackeff, Co-founder + COO
Sam is a Co-founder and COO of Ompractice where she bridges her passions for fitness and wellness with deep experience in tech and startups. Prior to founding Ompractice, Sam led Globalization at the mobile fitness app Runkeeper, helping to scale to millions of users worldwide, and was an early team member at Square. She's passionate about solving hard problems, improving communication and efficiency in fast-paced environments, addressing scaling challenges, and building great teams. Among her other pursuits, she's a culinary adventurer, certified personal trainer, and running coach; and teaches courses for women on self care. She lives in the Boston area with her partner Devon and startlingly cute French Bulldog, Bertram. She is a graduate of Wellesley College.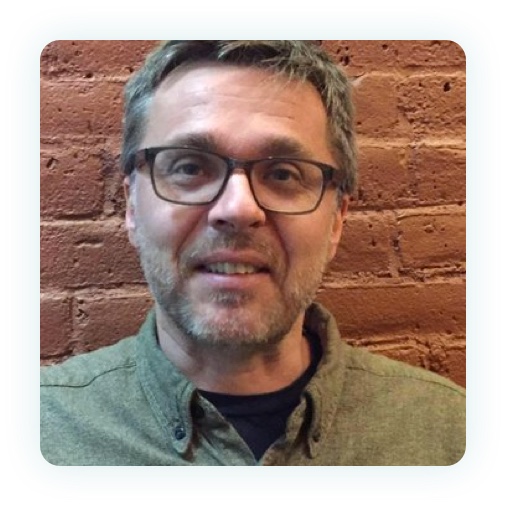 Chris Landry, Co-founder + CCO
Chris is a co-founder and the Chief Communications Officer of Ompractice. In more than twenty-five years in marketing and communications, Chris has helped dozens of national and global organizations tell their stories with more heart and more impact, and has helped raise millions of dollars for charitable organizations focusing on sustainable food and food security. His short film about the Buddhist teacher and thinker Joanna Macy was shown on PBS and at film festivals around the world. He lives in western Massachusetts and is frequently seen on a kayak or hiking trail, sometimes with his college-age sons.
MIIA Member: The convenience of attending an interactive, "live" yoga class from the comfort of my home is wonderful. To have the flexibility of practicing remotely any day of the week with such fantastic yoga instructors is a gift!
Molly K: I am away in Montreal and finally tried out Ompractice. I got to start my Saturday with an incredible yoga class right in our condo taught by an amazing teacher….Perfect for folks who travel, have young kids, or just not enough time to get to the studio and home again.
@MilesHighRunning: We have dabbled in yoga DVDs for over a decade to help work on flexibility, mindfulness and strength, but lacked accountability for any sustaining practice….We took a 9:00 pm Ompractice class with @Lisa.yogalove (it was actually a date night for us!). Lisa was in CO, we were in GA. No biggie.... It.Was.Awesome. No rushing to a gym. No need to find a babysitter. No need for super expensive memberships or drop-in studio fees. And the variety of times and teachers is insane. (And they are hiring!) People. You have to try this.
Cassie: Can I just say how incredibly lucky I am to have found Ompractice?!? It's SO hard keeping my practice going here in Kuwait (class timing, lack of teachers who teach the style I want, plus: can you imagine paying $50 USD for ONE group class?!?) but the Ompractice platform allows me to come to my mat (anywhere!!) and be lead through a live practice
I can't put into words how grateful I am. Thank you, thank you, thank you
5 Reasons Why 2-Way Live Streaming Yoga Is the Yoga of the Future
"What if you could take a yoga class in the comfort of your home or office with a LIVE teacher? This is totally possible now with two-way live streaming yoga classes."


Headshots, logos, video b-roll, and other assets curated by our team for yours.

Curious about Ompractice? 
Learn more about how Ompractice works.

Working on a story about Ompractice? Let our team work with you.