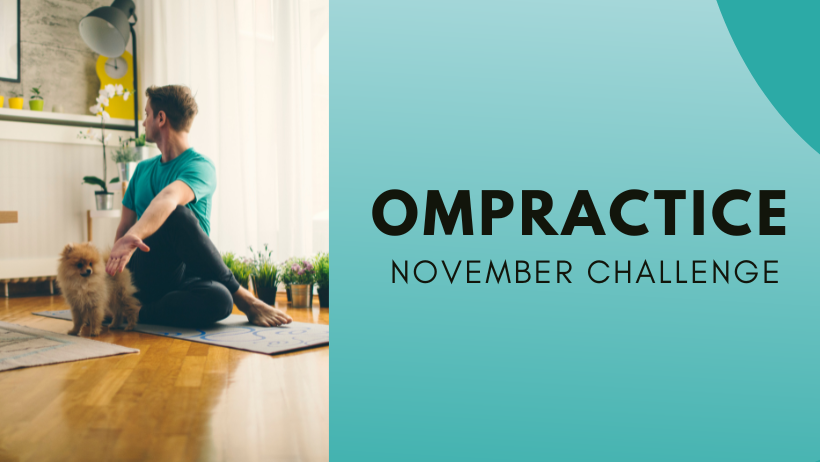 Ompractice November Challenge
Ahoy! Doing something a little new this month. We have 61 days left in 2022, and we're kicking off a new monthly challenge to help make the most of the end of the year, nudging ourselves into the directions that we want to go.
Small shifts lead to consistency! One of the ways that I've built habits for myself is by identifying a small monthly goal with a (time-defined) boundary. This allows me to try something new on a regular basis, but give myself an out if I don't like what I'm doing. On the flip side, when I enjoy a mini habit-challenge, I tend to stick with it in the long term!
We kicked off an Ompractice Facebook group this week – a space for community, accountability, and conversation!
Week 1: (Keeping it SIMPLE)
1. Set your weekly goal: one small MOVEMENT goal: be it trying something new, signing up for your Ompractice classes in advance, or getting in some extra steps in the outdoors – pick something this week that will inspire you!
2. Share with the group your intention (or if facebook isn't your thing, feel free to reply to me here, and I'll be your accountability buddy!) Week one goal thread is up here.
3. Check-In – when you get that thing done, let us know, and we'll give you that extra gold star, and cheers for one another! ⭐️⭐️⭐️
My week one goal is 2 new-to-me Ompractice classes. (I'm on a perpetual quest to take every one of our classes!)
Prizes? I'm always a believer of accomplishing the thing being it's own reward – but if you show up to commit and share each week of November, we'll come up with something fun 🙂 Join Us!
Here's to a mindful week one!