Whether you have a corner or castle to practice in, Swedish yoga teacher Ulrica Wihlborg, owner of Domino Magazine's "prettiest yoga studio in the world," shares her simple secrets for turning any home into a peaceful haven.
Like a baby's lovey or a sentimental fraying photo, being near things, people and places we love can inspire us to go there more. Or, if you've ever bought new running shoes or yoga pants, you're excited to use them and may make a special effort to hit the road or find studio time.
The same is true with your yoga space. Making it a physical place you enjoy – be it practical and functional or pretty and pristine is a personal choice but being intentional about where you practice pays off.  Luckily, you don't need to join an expensive yoga studio or hire an interior decorator to create a good feeling.
When we commit to a home practice, we need a space to stretch, breathe, meditate and practice. And while we do want to stop, drop and do some yoga, a mindful approach to where we work out, can help us stay on track and ultimately, do more yoga.
Ompractice recently caught up with Ulrica Wihlborg, the owner and designer of Pure Yoga in Karlshamn, Sweden to talk about how she earned the coveted title of Domino Magazine's "prettiest yoga studio in the world." Her tips reveal her style: how creating a space is more about taking care of yourself and less about fancy decorating requiring any financial investment.
"My yoga studio is my safe, peaceful nook in the world," says Wihlborg. "The moment I step inside those doors, I feel calm and happy. So creating a pretty and loving space at home is important because you want to be there. It can give you a rest from the noise and clutter in the world."
Here, the former People magazine editor-turned-yoga teacher – who trained with Mark Blanchard at Mark Blanchard's Power Yoga in Los Angeles – shares her top 5 tips for creating a space that inspires you to practice more.
Make Space to Practice More
1. Find a wall with little to no clutter.
Keep the walls and floors of your yoga room clean and simple. If you are creating a space, paint them a soothing white. My favorites are Benjamin Moore White Dove for a softer look or, for a crisper look try Chantilly Lace. If you want to incorporate larger items like stickers or posters, keep them tone-on-tone with the color of the walls so they don't stand out.
2. Don't get caught up in gear. Yogis once practiced on rugs, remember?
Keep the fourth yama, non-excess, in mind when designing your yoga space. Go for simplicity, and only bring in what you absolutely love. Don't feel compelled to fill the space with "yoga stuff." Keep it clean and simple. The less you bring into your yoga space, the less there is to distract you from the reason why you're there. Only add decor that will help you on your path and come from a place of love and kindness. Ask yourself, "Do I really need it? Does it add to my journey? Does it come from a place of kindness?"
3. Treat your yoga gear with care to respect yourself — and the work you are doing.
If you use yoga props, keep them organized. I suggest using natural fiber baskets for your mats, shelving for your bolsters and blankets and hooks for your yoga belts. Everything should have its designated place. That way, you keep your home studio clean and organized and it becomes easy to take care of your room. In a way, the room becomes a reflection of how you take care of yourself.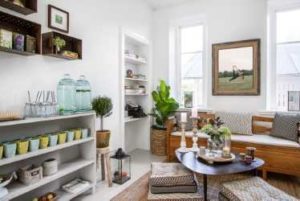 4. Good lighting (think: dimmer) is key. Hint: Even IKEA has soft, relaxing lighting.
Lighting is crucial for creating a warm atmosphere. So if it's in your budget, consider investing in lighting. Instead of one large ceiling lamp, you can buy dimmable track lighting and install one on every wall close to the ceiling. You can find reasonably priced halogen track lighting at IKEA or Lamps Plus, for example. Then connect them all to one light switch with a dimmer. That way, you can adjust the light in the entire room depending on what kind of yoga or meditation you are doing or even dim the lights completely when you're in Savasana.
5. Add life to your practice and place a vase nearby with a flower or branch.
Find a small vase, keep it in the room with a fresh flower or greenery and change it every week. It doesn't have to be much, a simple eucalyptus branch or a few flowers you find in your garden. But changing that flower or branch every week makes the room come alive. You feel as if you're taking care of the room and treating it with love. In return, you'll want to spend time there and, ultimately, treat yourself with some care and love. That's really what it's all about.