With about 100 classes on the weekly schedule, we often get asked "How do I figure out what kind of yoga is right for me?" If you are new to yoga, or haven't practiced in a while, you might be a little overwhelmed by all the choices and yoga terms. 
Vinyasa? Yin? Hatha? What's the difference?
👋 We're here to help.
We've put together this little guide to help you learn a little bit more about the different styles of yoga classes you can try out on Ompractice. We know that yoga is personal – the best benefits come from finding a style that works for you. In this post, read about our yoga styles at Ompractice, the range of classes on the schedule, and tips on how to choose your first class.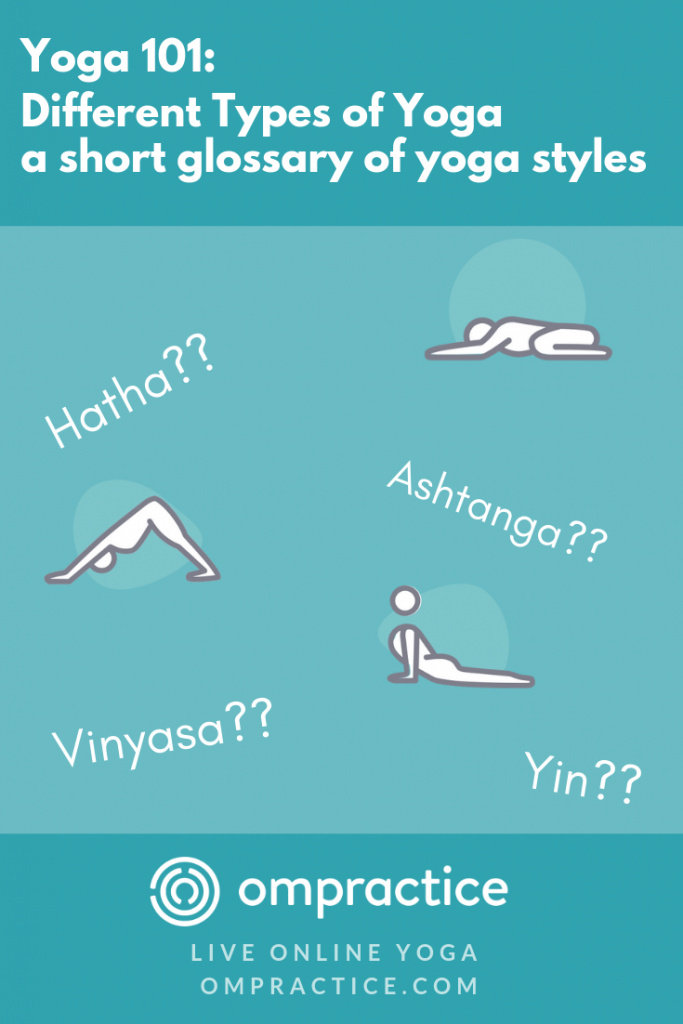 What to Expect: Yoga Styles at Ompractice
At Ompractice, we're fortunate to have a great community of experienced teachers who teach a wide variety of lineages and styles. Here are just some of the types of yoga you'll see in Ompractice classes.
🔥 Primarily Energizing yoga:
Vinyasa Yoga – Vinyasa is a style of yoga stringing postures together – usually "one breath, one movement" so that you smoothly move from one to the next. This is also the type of approach for "Flow" yoga classes. (If you've taken a basic yoga class at a studio before, chances are this is what you've tried!)
Ashtanga Yoga – is a style of yoga created by K. Pattabhi Jois, and is a set routine divided into "series," each series being more physically and mentally demanding than the next. Most students spend the majority of their practice in the first, called Primary Series. These classes are typically vigorous.
Power Yoga – Power yoga tends toward strength building and creating more invigorating movement, with long holds and an emphasis on breath control. Craving a very sweaty workout? These classes are for you.
Hatha Yoga – is an umbrella term that encompasses many different styles of yoga. Hatha yoga will emphasize movement and breath. Our Hatha classes are relatively gentle, and a great starting point for beginners.
Iyengar Yoga – named after and developed by B. K. S. Iyengar, is a form of Hatha yoga that has an emphasis on precise alignment. Iyengar Yoga typically uses props in order to achieve alignment goals.
Forrest Yoga – created by and named for Ana Forrest, it is known for long holding of positions, emphasis on abdominal core work, and standing series that can go on for 20 poses on each side.
Kundalini Yoga – this style aims to unleash "kundalini energy," which can be accessed at the base of the spine. In Kundalini yoga, practitioners use breathing exercises, physical postures, chanting and meditation to unlock this energy.
Kripalu Yoga – this style focuses on breath & centering, spine & joint warmups, asana sequences, meditation and a deep relaxation at the end of class. The practice focuses on strengthening the body through longer holds, a more integrated and physical flow between postures, and a deeper dive into self-awareness.
🕯️ Primarily Relaxing yoga:
Yoga Nidra – is a meditation and conscious relaxation practice that is intended to induce total physical, mental, and emotional relaxation. It is sometimes referred to as "yogic sleep." Yoga Nidra classes are typically taken lying down or seated, keeping very still.
Yin Yoga – Yin Yoga is a slow, passive practice that typically involves variations of seated and supine poses typically held for 3 to 5 minutes, accessing deeper layers of fascia.
Restorative Yoga – A restorative practice that frequently relies on the use of props and the prolonged holding of a few simple poses to achieve a deep level of relaxation. (Similar to Yin, this is often a bucket term for relaxing and restorative classes.)
In addition to some of these styles, we also have a range of classes that fall outside of these traditional ones, including yoga therapy, prenatal and post natal, and many focused niche classes (see below!)
Which yoga class should I take?
We've organized our classes below into categories of energy level to help you choose the right class for what you are feeling.
New to yoga? Or seasoned and want to flex your beginner mindset? Try out some of our beginner series that focus on learning poses, fundamentals, and basic techniques. (Note: while geared towards beginners, these may still be challenging! For a specifically gentle classes, see the "gentle classes" below.)
New to yoga? Or seasoned and want to flex your beginner mindset? Try out some of our beginner series that focus on learning poses, fundamentals, and basic techniques. (Note: while geared towards beginners, these may still be challenging! For a specifically gentle classes, see the "gentle classes" below.)
Gentle Classes – some days our bodies need less effort, gentle movement, and ease. We have a range of classes that fit the bill.
Moderate Energy Classes: these classes range in intensity, but all are designed to give you a strong workout. Classes with a * denote extra sweaty.
Specialty Classes
⏱️ Just 30 minutes to get in your workout?
Express (Quick Classes) – We know you are busy! Only have 30 minutes to squeeze in a workout? At Ompractice we have express classes to get you in and off the mat in 30 minutes or less. You'll find these on the schedule titled "express".
Our express classes are also a low-stakes way to try something new, be it a class style, or meeting a new to you teacher on Ompractice!
How do I pick my first yoga class?
One of the best recommendations we have is to try out a handful of new classes a month to figure out what styles you like.
Check out the schedule at ompractice.com/schedule or shoot us an email at info@ompractice.com and we'll help you out! (We're real yoga teachers behind the scenes!)
Try a Yoga Training Plan
Once you find something a class that resonates, we recommend that you take 1-2 classes a week of your preferred style, and consider making the third (or fourth!) a wildcard. Not sure how to build your practice? We can help! We offer free customized yoga planning to all of our unlimited members at Ompractice.
Want a whole plan? Reach out to us, and we'll help you find the perfect class to try based on your interests and experience!
Yep, we offer customized yoga training planning to all unlimited members (for free!). Spend 15-20 minutes with a teacher on our team and we'll help you set up a plan with classes that fit your interests and complement your schedule and current fitness or wellness goals. Email info@ompractice.com with the subject line "Yoga Plan" and we'll send you our calendar to pick a time for your session.
Get Started! 👇
Ready to take your first class? Drop into any Ompractice class on the schedule at ompractice.com/schedule, or sign up for unlimited membership, for just $24.99/month. That's just about ~$6/week for as much great yoga as you need!
This is the second in a series of posts about Ompractice classes! Missed the first one? New to Ompractice: Start here!